A "Foodies" Heaven! Superb restaurants just minutes from the Villa.
---
Now that you have found some of the best restaurants in the Algarve how about staying "here"

 

so that you can sample a few of them and discover what this region has to offer!
The Serra de Monchique Algarve - a "Foodies" Heaven!
The best restaurants in Monchique
There are about 40 restaurants in Monchique catering not just for tourists but for locals too and therefore the food is very good quality home style cooking of locally grown produce. Often cooked on charcoal grills or in wood fired ovens the food develops distinct and delicious flavors. If you have to wait longer than is usual it's because the food is freshly cooked, no microwaves in Monchique!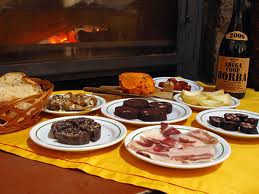 Monchique is famous for producing several unusual food products, peculiar to this part of Portugal, Porco Preto- black pork, these are reared locally and fed acorns, smoked black pork sausage, honey, chestnuts, cherries, goats cheese, Javali-wild boar, Medronho-firewater, distilled from the berries of the Arbutus tree, so don't be surprised when you see these products used in dishes on many restaurant menus. Restaurants in Monchique vigorously compete to produce the very best recipes using these local products. If your mouth is watering at this stage then you need to check out our availability!

Here are just a few of our favourites, the first in walking distance the others within 5-10 minutes drive.

O Luar da Foia is the one we use the most because it is at the top of our lane within walking distance of the villa, (confession, we drive). Awesome coastal views from the terrace. If you enjoy traditional local food we recommend their signature casseroles of wild boar with chestnuts or plums, black pork cheeks with chestnuts and lamb stew. The servings are huge and it is quite acceptable to order one portion between two. Look for the photograph of David Cameron with our local mayor taken when he stayed here in 2013! It is essential to book for Sunday lunch, Friday and Saturday evenings, in summer they will have two sittings in the evening, 7 and 9 pm, do check with them.  Villa Vida Nova guests receive a voucher for 10% discount off your bill. Tripadvisor Reviews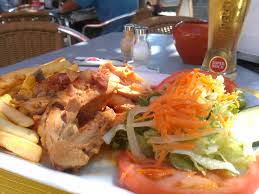 Jardim das Oliveiras is famous throughout Portugal. It's a restaurant serving traditional fare e.g. for starters a platter of local meats including Presunto (ham) and Chorizo sausage which you can cook yourself on your table. They have a vast variety of regional casseroles of locally produced meat and excellent steaks flambeed at the table. Most dishes are gluten free and there is a good selection of vegetarian dishes. It has a nice cottage feel with two log fires which is very cosy in the winter time. The ruined convent can be seen from the garden. The service is good and you may be served a local liqueur "on the house" to finish. A high quality restaurant in the medium price range. Turn left into the Foia road and then after 1 km take a right where you see their sign, the restaurant is a few hundred yards on the right, signposted. Villa Vida Nova guests receive a voucher for 10% discount off your bill.  Tripadvisor Reviews
A Charrette in the centre of Monchique, from the square walk up the pedestrianised street, until it levels out , then continue in the same direction up the hill, against oncoming cars, always going up hill and you will find it on the right.  The decor and ambience is very traditional, full of antiques, service is friendly and efficient. Used by locals so has to be good! Traditional "Monchiquense" dishes, you will love it. Villa Vida Nova guests receive a voucher for 10% discount off your bill. Tripadvisor Reviews
O Castelo Under new ownership since February 2018 Paula used to be the manager at A Rampa restaurant for many years but has now taken the plunge and bought O Castelo and what a fantastic job she has done. The decor is great, plenty of seating inside and outside on the terrace to take in the views. The menu is typical of the region but the standards are well above average and the prices, because she is new are below average. Please  support Paula she deserves to do well, don't forget to mention where you are staying. O Castelo is on the EN 266 just north of Caldas de Monchique. Tripadvisor Reviews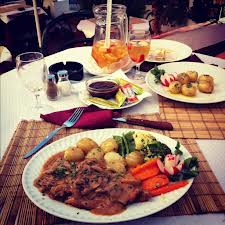 Foz do Banho, on the EN 266 just south of Caldas de Monchique. A lovely restaurant that also has a local Artesnato shop attached which has an extensive range of locally made crafts you may want to buy a holiday memento. The restaurant's signature dish has to be the Pork and Prawn Cataplana, (for two),absolutely delicious.                     Villa Vida Nova guests receive a voucher for 10% discount off your bill. Tripadvisor Reviews
1692 is a quality restaurant situated in the square in Caldas de Monchique. The food and service is excellent and in the summer they often have very good live music in the square on Friday and Saturday nights. We have celebrated New Years Eve here, 8 years in a row, sad aren't we! Tripadvisor Reviews
O Tasco Wine and Tapas Bar in the delightful and historic village of Caldas de Monchique. The Bar itself is 14th century and oozes charm. It's a place to chill out on a sunny day or warm summer evening and listen to music in the square. The tapas are all local type foods, order as you go and share with friends over a couple of bottles of wine or beer. Tripadvisor Reviews
Paraiso da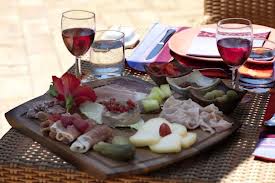 Montanha About 5 km up the Foia road out of Monchique, next to A Rampa restaurant. Fabulous coastal views from the terrace, an interesting menu, try Chicken with Cherries and Kid casserole, both to die for! Better as a lunch time restaurant. Tripadvisor Reviews
A Rampa  A holiday in Algarve would not be complete without chicken "Piri Piri". Cheap and Cheerful and is situated on the right hand side up the Foia road about 5 km. Very basic but with fantastic views from the outside terrace. Tripadvisor Reviews
We trust that you will love these typical Monchique restaurants and the local food as much as we do. Whenever we tour Portugal and talk to folks on the way they have always heard about Monchique and it's because of the food! Enjoy your holidays in the Algarve......and don't eat too much!

We were spoiled for choice, there are dozens of superb restaurants in Monchique each with their own character and special dishes, it is my opinion that these are some of the best in Portugal if not the best in Europe...........TripAdvisor