Bird Watching and Wild Life at the villa and in the Algarve Portugal
---
Birds in the Algarve

If bird watching is on your list of to do's on your Algarve Holidays then you will not be disappointed.  Monchique is perfect as it is directly on one of the major migratory routes. Villa Vida Nova has a large garden and is elevated with a variety of natural habitats within binocular and scope range, ideal as your base. Within an hours drive from here in every direction you will find very different topography, estuaries, lakes, tidal rivers, mountains, cliffs, plains, beaches and diverse farmland. Each attracting species that are suited to that type of terrain.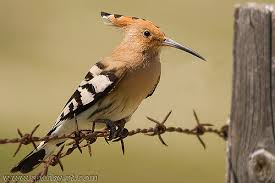 Some notable species found in Portugal and the Algarve, which are essentially South Western Mediterranean species, have significant populations in these areas, and include White Stork, Black Stork, Griffon Vulture, Black Vulture, Golden Eagle, Spanish Imperial Eagle, Short-toed Eagle, Bonelli's Eagle, Red Kite, Black Kite, Black-shouldered Kite, Montagu's Harrier, Lesser Kestrel, Crane, Great Bustard, Little Bustard, Black-bellied Sandgrouse, Stone-curlew, Collared Pratincole, Eagle Owl, Red-necked Nightjar, Hoopoe, Bee-eater, Roller, Thekla Lark, Short-toed Lark, Calandra Lark, Crag Martin, Red-rumped Swallow, Rufous Bush Robin, Black-eared Wheatear, Blue Rock Thrush, Spectacled Warbler, Woodchat Shrike, Southern Grey Shrike, Azure-winged Magpie, Raven, Spotless Starling, Golden Oriole, Spanish Sparrow and Rock Bunting.
There have been recorded over 360 Species of birds in the Algarve and over 150 species of birds in the area of the Serra da Monchique, I am no expert and have probably seen only half of these on my excursions around here, any way I have seen over 50 species in the villa gardens, see my list blow the map at the bottom of this page.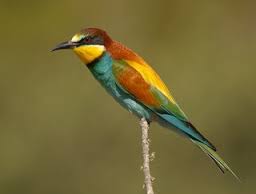 Scroll down for more about Birds.

Wild Life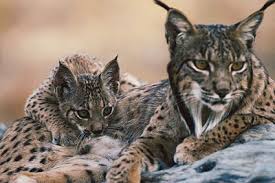 There is plenty of wild life in the mountains of Monchique, worth mentioning are, Deer, Wild Boar, Egyptian Mongoose and Lynx. Very timid and mainly nocturnal and so difficult to see, however wild boar (Javali on the menus) and Egyptian mongoose have been seen on our neighbours land, the boar make quite a mess digging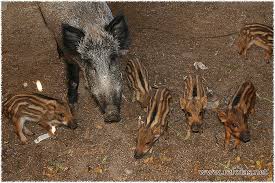 for anything they can find to eat. Returning from a local restaurant late at night last January about 12 boar crossed the road in front of our car, this was only 500 meters from the villa. If it is raining at night, put the outside lights on and you may well see Fire Salamanders and our resident toads on the paving around the villa. The largest is called "Hector"! We have Bats, but not sure what type, also Wall Lizards and Ocellated Lizards from nose to tip of tail can be 60 cm, Schreibers Green Lizards and Moorish Geckos. In our grotto we have Gold Fish, Bosca's Newts and occasionally Iberian Water Frogs.

      
More About Ornithology

You may ask why do we see Grey Herons here in Monchique, it is because they have learned that locals put fish in their open irrigation tanks so they drop in from time to time for lunch. On the way up to Monchique on the EN 266 at Rasmalho there are hundreds of nesting White Storks, that can be seen right next to the road. They are resident all year and do not migrate to Africa with the rest from Europe.  On the EN 125 just east of the junction with the EN 266 before and after the suspension bridge that spans the Arade River it is well worth pulling over, best at low water, you will see many species of waders and gulls. Notably Flamingos, Spoon Bills, Avocets and Stilts.
Purple Galinule, Glossy Ibis, Great Bustard, Crane, Black Stork, Bitterns, Night, Squacco and Purple Herons, Griffon, Kites, Eagles, Black and Egyptian Vultures can all be found within 2-3 hours drive of the villa.
We have two Red Rumped Swallow nests, one in the pool pump room and one in the wood store, the residents return from Southern Africa like clockwork every year 2nd week of March, they and Martins skim our pool for a drink.

Best time of year for Bird Watching
For me I love April and May it is breeding season and most summer migrants have arrived. However the rest of the year is also brilliant, even the shortest dullest days in December, because of our latitude we have amazing light, and on cloudy days you need light! So November would rate highly, winter migrants are arriving and where light in Northern latitudes makes every Passerine look like an LBJ at 20 meters, here the light is as good if not better than it is in June up North, no LBJ's here in the Algarve!

Why not come and stay in our Villa Rental?
The villa is ideal for one, two or three couples, the cost per couple in November for example would be only £192 for 7 nights if you share with friends. Car rental from €10 per day unlimited mileage from Faro Airport, with easyCar.com Flights from under £50.00 depending when and from where. Enjoy some sunshine and warmth before the winter sets in. It's a no brainer!

Great Birding spots: See Map Below. (this section is still under construction)

Here is a very useful Link to a pdf download: Bird Watching in the Algarve
Within walking distance or a half hours drive of the villa.
The mountain region of the Serra de Monchique, of which 83% of the land area has been declared a natural reserve, including the peaks of Foia and Picota, several contour roads and the valleys and streams.
The foothills of the Serra.
The cliffs and beaches of the rugged Atlantic West Coast. The cliffs and beaches of the South Coast including the estuary and lagoon at Alvor. The Arade tidal river, mud flats and salt pans.

Within one hours drive.
The hot and dry plains of the Alentejo. Cabo S. Vicente (the most South Western point of Europe).  The wetlands at Salgados and Ria de Alcantarilha. Wetlands at Vilamoura. Beaches and cliffs at Costa Sudoeste. Natural park of South West Alentejo and Costa Vicentina

Within 2 hours drive.
Wet lands and salt marshes of the Ria Formosa, Serra do Caldeirao, Luzianes, Castro Verde and Mertola. Castro Marim and the river Guadiana.

Within 3 hours drive.
Donana National Park (Spain). Rio Sado Natural Reserve and Estuary, Central Alentejo, Rio Tejo Estuary.
On the map below click on the orange icons to get the locality name and a list of some of the more interesting birds that you may see there.
Here is a list of birds that I have seen myself in the villa gardens. I want to add to the list but these days I can only add winter birds as we are not here from March through to December. I would like to encourage our guests to let me know if they spot something that needs to be added, so do let me know. Send me an email please!

Bonelli's Eagle, Short-toed Eagle, Sparrow Hawk, Kestrel, Buzzard, Tawny Owl, White Stork, Grey Heron, Cattle Egret, Hoopoe, Bee Eater, Cuckoo, Green Woodpecker, Great Spotted Woodpecker, Lesser Spotted Woodpecker, Azure winged Magpie, White Wagtail, Grey Wagtail, Meadow Pipit, Red Rumped Swallow, Swallow, House Martin, Alpine Swift, Swift, Short-toed Treecreeper, Nuthatch, Wren
Blackbird, Spotless Starling, Mistle Thrush, Jay, Great Tit, Blue Tit, Crested Tit, Long Tailed Tit (southern form), Serin, Siskin, Linnet, Pied Flycatcher, Chiff Chaff, Rock Bunting, Redstart, Black Redstart, Robin, Black Cap, Sardinian Warbler, House Sparrow, Goldfinch, Chaffinch, Greenfinch, Feral Pigeon, Wood Pigeon.
Back to Top More about Birds and Nature
A link about the Trees and Flowers found in the Serra da Monchique